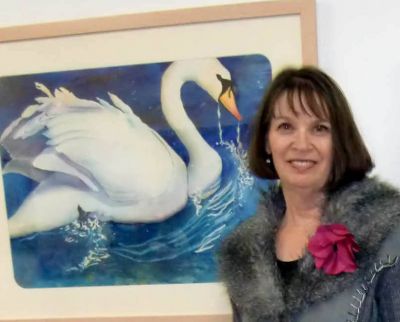 "One of the earliest memories I have as a child is sitting upon my mother's lap as she showed me how to make a swan in finger paints by using my little fingers and fists. Even now as I paint, I can still feel the wonder of creation well up within me just as I did while she held me in her arms on that day when art became an integral part of my life. Swans still occasionally show up in my work."
Began her artistic career at Hallmark Greeting Card Company, Inc., Kansas City, Missouri
Obtained a Bachelor of Fine Arts from Southern Illinois University at Carbondale
Became Art Instructor at Dupo High School, Dupo, Illinois and Belleville Area College, Belleville, Illinois

Currently shows at the Plantation Artists' Guild & Gallery, the Island Art Association Gallery, and 2nd Story Gallery in Fernandina Beach, FL
McDannold is a veteran exhibiting artist having shown in over 50 juried art fairs and shows in 14 states.
Her work has received many accolades and awards, and is widely held in private and public collections here in the U.S., Canada, and in many countries across the globe.